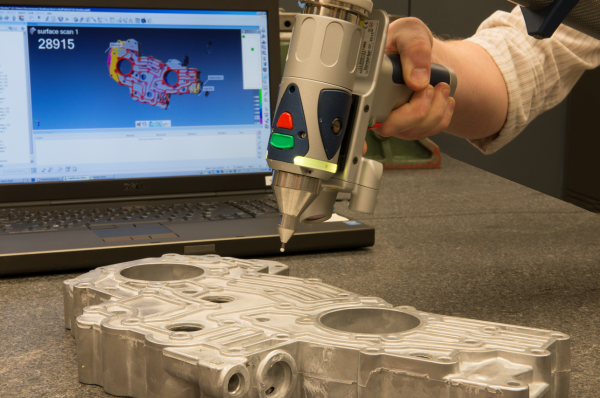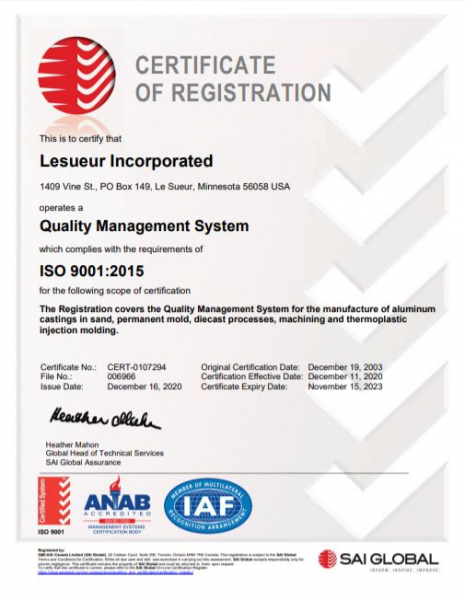 Click Image to Print
Quality Control Processes
Le Sueur Incorporated has a dedicated Engineering Team specific to each of the manufacturing processes we perform including aluminum die casting, sand casting, permanent mold casting, thermoplastic injection molding and precision machining. Engaging with LSI's engineering professionals early on in a products development is the opportune time to "design in quality" & "design out cost". Together, our engineers work with our customers engineers to evolve an optimal product design. This engineering interaction is essential to achieving a mutually successful project.
LSI employs formal processes to ensure the manufacturing of quality products each and every time:
Fully Gated Product Launch System

Every new project is managed thru a structured and fully gated project development process. This brings together all stakeholders in the manufacturing processes with the intent to uncover and resolve potential issues BEFORE tooling is developed and the product launched into production.

Advanced Product Quality Planning (APQP)
PPAP Submission for Customer Approval
Process Control

Visi-Trak Process Monitoring on all die casting work cells.
X-ray: Digital Radiography, Computed Radiography & Film Radiography
Detailed work instructions including visual aids
Quality Policy
It is the policy of Le Sueur Incorporated to completely satisfy the expectations of our external and internal customers. We accept full responsibility for our work and do not knowingly pass on defective work.
Continuous Improvement
Our Continuous Improvement goals are to embrace Lean philosophies and practices to drive out waste from all processes in order to increase throughput, safety, and to generate greater value for our customers. Our Continuous Improvement targets include all production and support processes. Lean isn't just something we do, it is how we conduct business because we want to earn the right to be the "supplier of choice".
Equipment List
Metal Spectrometer (OES) for validating and monitoring alloy chemistry
(5) Touch Probe/Scanning Coordinate Measurement Machines (CMM)
(1) Vision Coordinate Measurement Machine (CMM)
Faro Arm with Laser Line Scanning attachment for 3D Inspection and model comparison (Becoming more popular and standard for product qualification)
Measurement & Testing Equipment: Over 3,000 active tools registered in calibration system.
Le Sueur Incorporated specializes in producing dimensionally complex, pressure tight aluminum castings and thermoplastic injection molded components. We offer complete in-house precision machining, finishing and assembly. Please contact us to learn more about our capabilities!